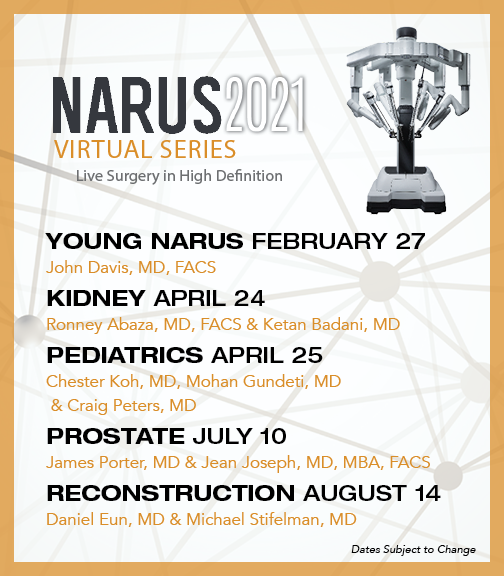 Registration Fees
| | | |
| --- | --- | --- |
| Attendee Type | Per Session | Entire Series |
| Physician / Allied Health Professional | $50 | $125 |
| Trainee* | FREE | FREE |
| Non-Exhibiting Industry | $500 | $2,000 |
*Trainees must provide the following for verification: Institution Name, PG year, and contact information (name, email, and phone number) for PD or Coordinator.

LIVE SURGERY Retzius Sparing RARP
EXPERT DISCUSSION Transitional Experiences in Robotic Surgery: The First Post-Graduate Years
Hosted by John Davis, MD, FACS
Tips for getting your early RARP cases in <4 hours
Case and technical selection early RAPN
Building a reconstruction program
Innovation Lecture: How Will Robotic Platforms Evolve for the Next Generation of Surgeons?
Panel Discussion

LIVE SURGERY Multiport Partial or Complex Radical
EXPERT DISCUSSION Advancing Your Technique and Complexity in Robotic Kidney Surgery
Hosted by Ronney Abaza, MD, FACS and Ketan Badani, MD
The Retroperitoneal Approach Made Easy
High Complexity Tumors: Tips & Tricks for a Successful Partial Nephrectomy
The Value of Robotic Radical Nephrectomy
Panel Discussion

DIFFERENT ACCESS TYPES FOR ROBOTIC UROLOGIC SURGERY IN CHILDREN
International Perspectives from the U.S., Europe, and Asia
Hosted by Chester Koh, MD, Mohan Gundeti, MD, and Craig Peters, MD
Debate / Presentations
Port Access Crisis for Robotic Urologic Surgery in Children – What are the Solutions?
Semi-LIVE Surgery
Pediatric Robotic Single Port Pyeloplasty

LIVE SURGERY – Extraperitoneal Single Port Prostatectomy
Jean Joseph, MD
Single Port vs Multiport Prostatectomy Debate
Matt Tollefson, MD and Jonathan Henderson, MD
RARP for High Risk Disease/How to Improve Oncologic Outcomes
Tom Ahlering, MD – Isaac Kim, MD, PhD, MBA – Prof Dan Moon – Alvin Goh, MD
Challenging Scenarios in SP and Multiport RARP
Paul Cathcart, MD – Keith Kowalczyk, MD – Kirsten Greene, MD – John Davis, MD

Part 1: LIVE Surgery: Complex Upper Urinary Tract Reconstruction
Michael Stifelman, MD
Part 2: Building Your Reconstruction Skill and Practice
Daniel Eun, MD
Ziho Lee, MD
Jill Buckley, MD
Mutahar Ahmed, MD
Boyd Viers, MD
Divya Ajay, MD, MPH
Brian Flynn, MD
Lee Zhao, MD
Simone Crivellaro, MD